Orounta Youth Centre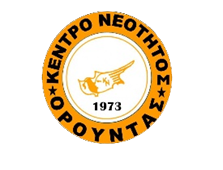 The Youth Centre of Orounta was founded in 1973 by a group of progressive youngsters of our village aiming at the social, cultural and athletic development of our community.
The Board of Directors of the Orounta Youth Center was formed as follows on 4/4/2019:
PRESIDENT: Constantinos Siamptanis (99-545527)
VICE-PRESIDENT: Εvaggelos Agapiou
CECRETARY: Anna Georgiou
CASHIER: Μaria Agapiou
ΜΕMBER: Nicolas Kourelias
ΜΕMBER: Eleni Siamptani
ΜΕMBER: Michalis Georgiou
RUNNER UP: Andreas Achilleos
RUNNER UP: Giorgos Stratouras
The creation of a football team was the first measure taken by the Youth Centre. The Youth Centre received a significant boost by a number of young people who creatively participated in the centre's activities after they had settled in Orounta since their homes had become occupied by the Turks during the Turkish invasion.
Next, the Youth Centre created a Theatrical Club, while it was actively involved in various other fields and events taking place in our community. Moreover, the Community Football stadium was built between the years 1980-1983, while the Youth Centre's private building was constructed between 1987 and 1990.
Ever since its establishment, the Youth Centre has organised lectures, excursions, charity events and music nights aiming to keep the youth of the community healthily occupied during their free time so that they can fully exploit their potential.
Nowadays, the Youth Centre maintains football, dancing and theatrical clubs. At the same time, other clubs operate occasionally to cater for the needs and wishes of its members.
The Youth Centre of Orounta harmonically cooperates with all organised parties of our community and participates equally in all events taking place in our village.
Source:
Orounta Community Council Texts